Microsoft Teams Solutions & Teams Governance Services.
Everything you need to know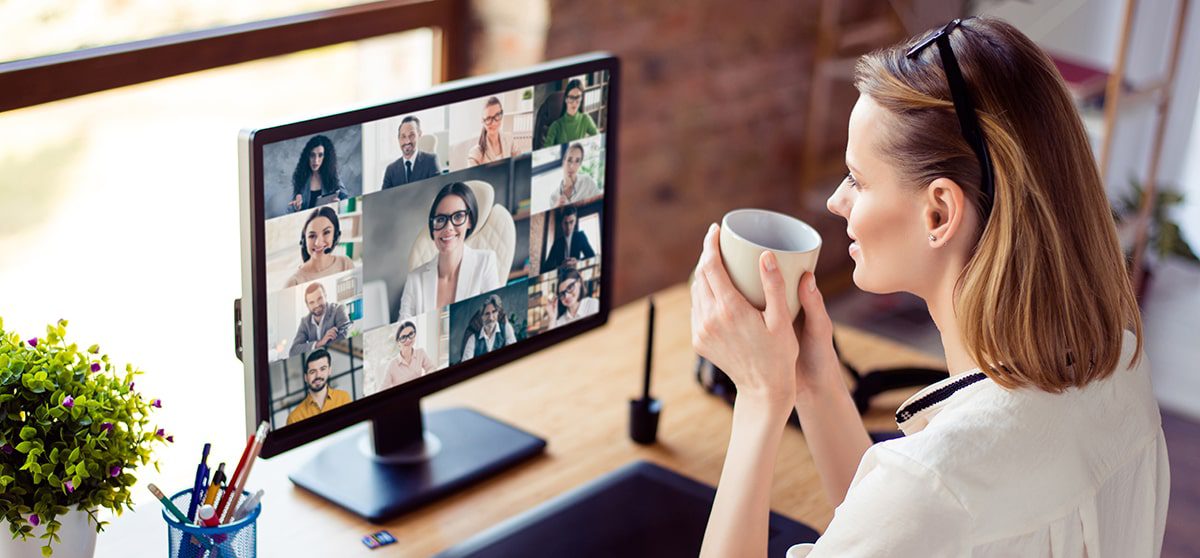 Microsoft Teams – Explained
In its most basic form, Microsoft Teams is a way for organisations to streamline their activities, open up the lines of communication, safeguard their sensitive data and ultimately operate at a higher capacity.
This is achieved via the range of services provided within Microsoft Teams. Document sharing enhances teamwork and collaboration; online meetings mean staff, stakeholders and guests in different locations can communicate easily through a single, unified channel. Channels allow for deliberate siloing of certain teams. Text, audio and video chat functionality means communication is readily available and can be used while working on other things – improving productivity while reducing task lag time.
An easy way to think about Teams MS is like a shared workspace. Whether you're part of a large multinational, a small business, a mid-sized firm with offices across the country (or globally), or just a solo practitioner, Microsoft Teams has solutions to help drive your business forward. And because it integrates with the Microsoft 365 (formerly Microsoft Office 365 with Teams) productivity suite – and provides extensions that can work with non-Microsoft products – almost everything you need to run your business is in the one place. You can use Microsoft teams online using the Microsoft Teams web app, or you can use the MS Teams app on your desktop.
At its core, Microsoft Teams delivers organisations with a free-flowing team space where ideas can be shared, creative decisions can flourish, and everyone can communicate without fear of cross-platform disruption.
A Brief History of Microsoft Teams
Back in 2016, rumours were rife that Microsoft was considering a multibillion-dollar purchase of a competitor, the collaboration software service Slack. However, that takeover never came to fruition and instead Microsoft poured new resources into upgrading its Skype for Business product. The goal was to refurbish its most useful elements while also replacing it with a more robust service – i.e. extend the capabilities of Skype for Business – and combine the best services like chat, meetings, calls, collaborations, app integration as well as file storage, all in a single interface.
The newly branded 'Teams' was officially announced in November 2016 and over the following 10 months Skype for Business was slowly replaced – and renamed – as Microsoft Teams, offering a diverse range of programs and improved functionality.
In subsequent years, Microsoft Teams has continued to upgrade its suite, such as by allowing members outside of the M365 subscription to join the platform, and taking over the Microsoft Classroom solution in M365 Education.
The number of active users has increased exponentially since Microsoft Teams' unveiling, and as of April 2020 the suite sees more than 75 million daily users, with a record 4.1 billion meeting minutes recorded in a single day. Today, within the suite of Microsoft Office, Teams is the standout product in many ways. Regarding Teams, MS is focused on providing value through seamless integration with Word, PowerPoint, Excel and more.
The suite is available in 26 languages and runs on Windows, macOS, iOS, Android and Linux operating systems.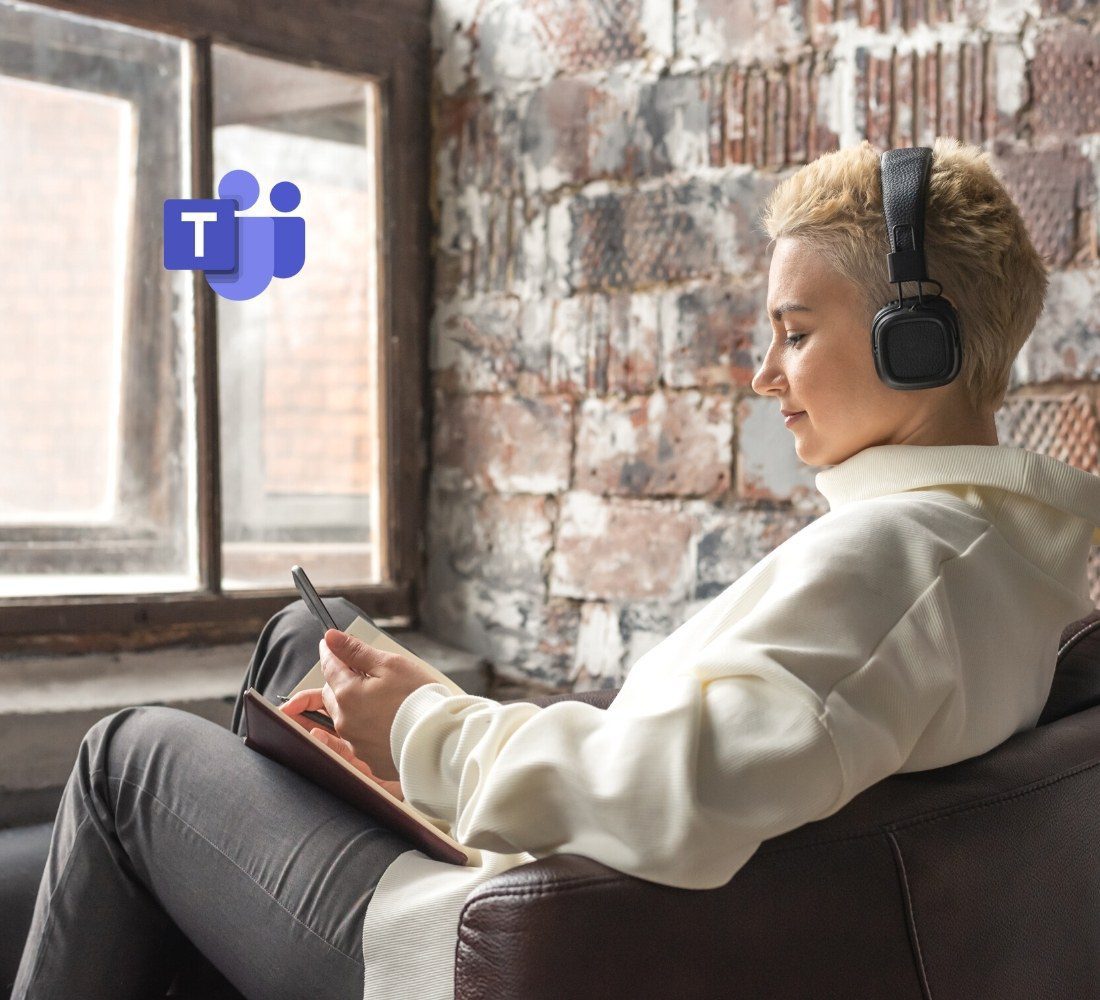 What is Microsoft Teams used for?
How your organisation leverages the power of Microsoft Teams will depend on a number of factors, from your industry type to your staff numbers, productivity challenges and more. However, for the most part, you'll be using MS Teams for one of the following eight core components that mark it as a leader in the collaboration software space:
Chat functionality

The simplest tool is often the one with the greatest uptake in every business. The chat functionality in the Teams MS app is simple, user-friendly and can be used whether you're in a specific group, team or sending messages as an individual. You can do even more with chat when incorporating things like QBot.

Channels

Channels are at the heart of MS Teams. These conversation boards can be created by individuals or groups and allow for close collaboration with easy accessibility.

Video conferencing and screen sharing

 Fast, good-quality video calls are essential to running a modern business, and Microsoft Teams' online video calling and screen sharing capabilities are second to none. Whether you want to video chat with co-workers, stakeholders or customers, it's easy to do in Teams. You can also enjoy real-time collaboration by sharing your desktop with video participants.

Audio conferencing

Unlike a variety of competitors on the market, using Microsoft Teams online allows anyone to join your online meetings via phone. So long as they have an invite, all they need to do is enter the conference number then their unique PIN and they can join the conversation – without having to log into a computer. This is extremely helpful for callers who are on the road or away from a decent internet connection. Guests also don't have to be Microsoft Teams subscribers, so it's perfect for communicating with clients.

Storage for business-sensitive documents

SharePoint Online has a digital repository where it automatically saves conversations in MS Teams to a default document library folder. Never again worry about losing that sensitive information or those useful collaboration notes – and you can customise permissions and security features according to the sensitivity of the data recorded.

Online meetings

Conduct company-wide catch-ups, train new staff remotely, share business updates, meet with stakeholders and reach out to clients – all these and more are possible with Microsoft Teams online meetings. Anyone within or outside your team can join with an invite, and you'll get to use a variety of handy features like real-time chat, file uploading, note-taking capabilities and scheduling functions.

Collaborative conversations

From the MS Teams 'General' channel, any user can view conversations in real-time and add to different channels. Using the @ feature calls out particular team members and can be used to invite users to separate conversations. This means collaboration is free-flowing and users can interact with the right people at the right time.

Business phone system

While you'll have to pay additional licensing fees, Microsoft Teams can replace your existing phone system, reducing expensive VoIP vendor fees and all the hassles associated with using an external provider.
The Business Benefits of MS Teams
It's difficult to quantify the inherent value of the Microsoft Teams suite across every business. After all, different organisations will use Microsoft Teams' online features for different purposes. However, a recent Forrester survey canvassed more than 260 MS Teams customers across a variety of industries – from education to financial services.
There were a number of valuable takeaways from the data, including that Microsoft Teams:
Reduced weekly meetings by 9%.
Saved information workers 4 hours of work per week thanks to improved collaboration and information sharing.
Improved time-to-decision by 7% for decision-makers in the business.
Reduced the average number of overnight trips by 150 by replacing them with online meetings – this was achieved by the third year of Teams use.
Saw 88% of users excited that they had all of their solutions in the one place, which saved them time.
At a higher level, MS teams and MS Teams apps provide your entire business with a number of improvements that can actively streamline your operations, improve staff morale and help you become a more competitive organisation. Just some of those benefits include:
Increased transparency
Whether it's a large corporation with a storied history or a modern, digitally savvy startup, businesses have a habit of slipping into siloed ways of working. This is a major hindrance to productivity and can mean important workers are left out of the loop because there is little to no inter-departmental communication.
Microsoft Teams breaks down those barriers and ensures greater transparency across the board. Never again forget to include a co-worker in an email chain. Simply post your message in the appropriate channel and flag specific users with a direct @ tag. You can rest easy knowing the right parties have been notified and you will receive real-time responses that all vital parties can read – depending on their permissions.
An easy shift to the digital workpalce
Digital transformation for any business can be a long, challenging transition. From long-term employees who refuse to buy into the changes, to the financial and time demands required to uproot your traditional systems.
But Microsoft Teams allows for a seamless, hassle-free shift to the digital workplace. Teams MS is fully based in the cloud, meaning users can access all business-relevant information anywhere, anytime. What's more, big data processing and the power of artificial intelligence (AI) means your team can work smarter, not harder.
Streamlined onboarding process
New employees to train up? Current staff shifting roles to a new department? Reduce wasted hours spent in face-to-face meetings and time-consuming onboarding sessions by moving them all online with Microsoft Teams. Using MS Teams online means new employees don't even need the MS Teams app on their device.
This also means you can source top talent from beyond your current regional borders, potentially bringing on international recruits and getting them up to speed quickly.
Better productivity through richer collaboration
With all your tools in the one place, there are fewer chances users will be confused about how to access a certain program, send a file to a co-worker or join a videoconferencing session. With everything available through a single interface, productivity is increased and your IT department doesn't have to juggle tickets about issues with various third-party software.
That being said, however, Microsoft does provide you with the capability to integrate useful third-party apps into your Teams hub, even when you are using the Microsoft Teams web app, which means the staff that is more familiar with other programs can keep using them without leaving the MS Teams online environment.
Get Governance for Microsoft Teams
By choosing Antares as your partner to provide Microsoft Teams, you'll enjoy our purpose-built governance solution Tellus. Tellus is your dedicated central hub where you can create, manage and govern teams in your MS Teams suite.
Want to monitor the life cycle of every team your organisation creates? Tellus controls it all – from creation to archiving and even deletion. It's also the easiest and safest way to give your staff control over their own collaboration needs in Teams.
We understand that every organisation is different, which is why Tellus was built to accommodate your specific needs and governance challenges. The solution even catalogues every byte of your teams with custom metadata.
Set up your own Tellus governance from four unique templates that have been expertly engineered to meet your most common use-case needs. Once you're set up, your central dashboard will act as your hub for all things Teams related. Give security permissions to senior staff. Search and edit every team created. Archive and delete teams that no longer provide value. You can even restore deleted teams – something that has previously only been possible for administrators through the Microsoft 365 admin portal.
With Tellus, you can rest easy knowing your organisation will enjoy greater governance over Microsoft Teams, ensuring efficiency, security and a path to greater productivity.
Find out more about Tellus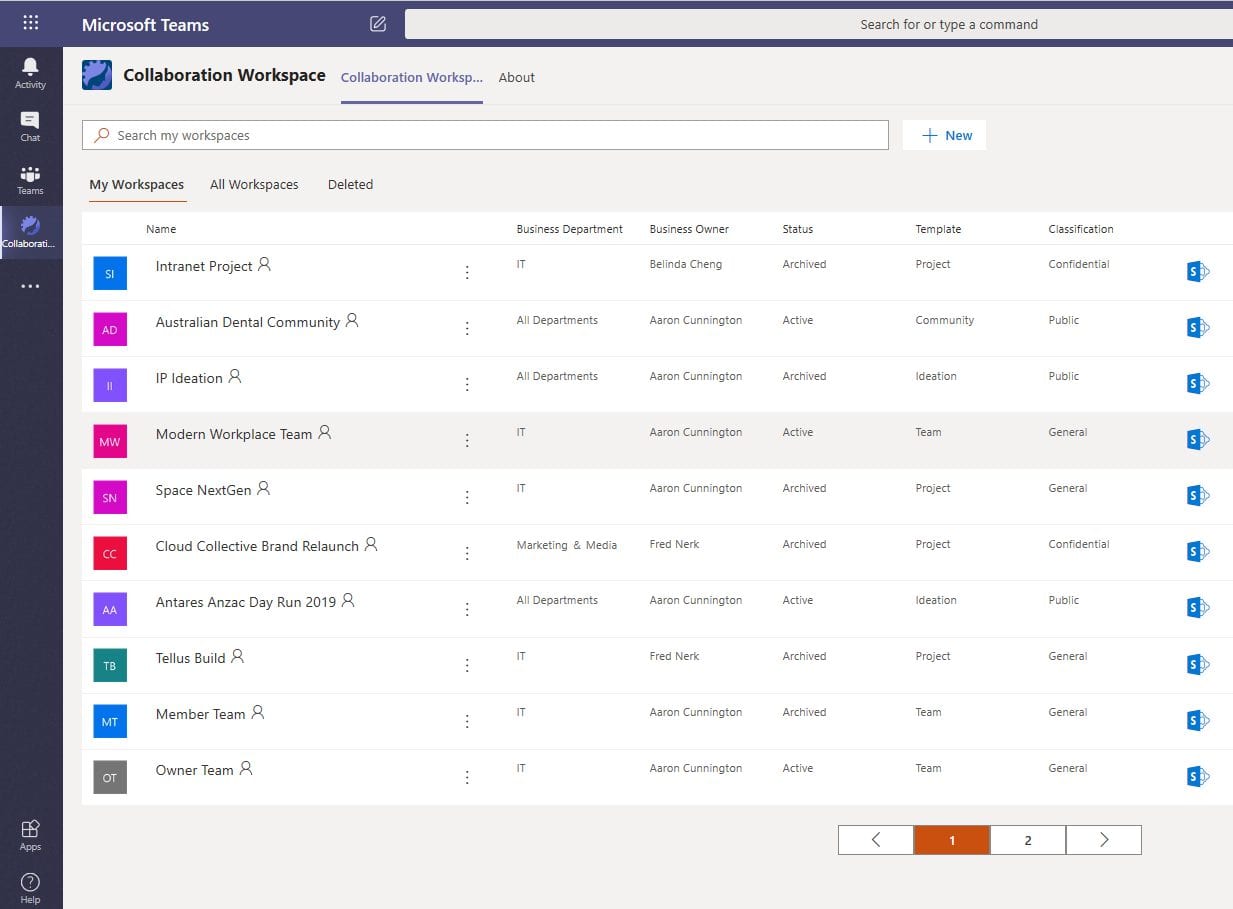 How to Adopt Microsoft Teams into your Business
How you integrate Microsoft Teams into your day-to-day operations will likely depend on the size of your business. While solo practitioners and small businesses with a 365 subscription can generally pick-up-and-go with the Microsoft Teams apps they want to use, larger organisations – particularly those with an on-premises or hybrid Skype for Business model – will need expert support from a team that truly understands Microsoft Teams.
Antares is a market leader in everything from data and AI, to software development, modern digital workplaces and more. We are also adept at helping organisations leverage the value of Microsoft Teams for their specific benefits.
For example, we partnered with Microsoft and the University of New South Wales to develop a world-first AI-infused chatbot built into Microsoft Teams that would answer students' questions, QBot. What's more, we helped UNSW deliver Dr David Kellerman's entire engineering course to more than 500 students through Microsoft Teams.
You can contact Antares – one of three leading Microsoft Gold partners that make up the Cloud Collective – by calling us on +61 2 8275 8811.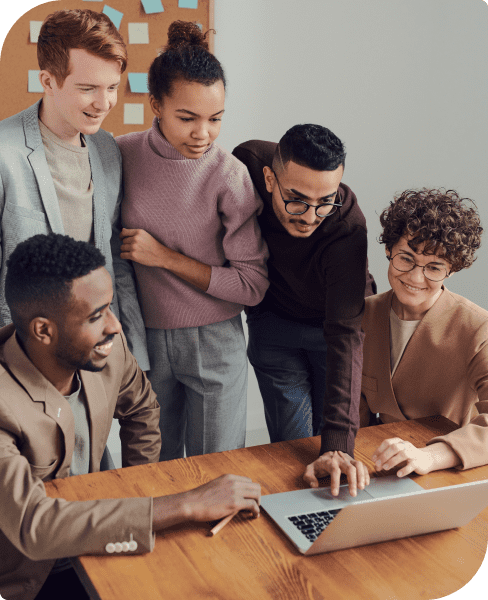 Top 10 Microsoft Teams Apps
While every business will have different apps that serve important functions for their operations, here are some of the most popular Microsoft Teams apps and the type of problems they can solve for your organisation:
OneNote

For fastidious note-takers who end up losing precious information because they aren't stored in a single location, OneNote eliminates those worries. Keep all your relevant notes in the right channel to improve your organisation and collaborate better.

Trello

There are lots of similar productivity management apps available on Microsoft Teams (think Asana, Wrike and the in-built Microsoft Planner), but many users like Trello because they've used it previously. It seamlessly integrates with Teams, and you can use Trello boards to track workflows, organise brainstorming sessions and a range of other activities.

Freehand

This intuitive digital whiteboard is the perfect collaborative tool that lets you work together on a single board without having to be in the same room. Great for tackling projects when team members are working remotely.

Stream

The Microsoft Stream app lets you and your team watch videos – or share them on your channels. This is ideal for creating your own business-specific videos and delivering them in a townhall-style meeting. It's also handy for training videos and other company events where parties may not always be present at the same time.

Karma

Keep morale high with the Karma bot for Microsoft Teams. This app lets users give 'kudos' to their co-workers for a job well done. Not only does this raise spirits and promote a good work ethic, but it also encourages healthy competition as more kudos means users move up the leaderboards.

Polly

A favourite among many users, this MS Teams online app lets you create polls in your channels, helping you make decisions faster. Use Polly polls to cast votes, decide on a version of a particular document to send to your clients, or just to choose the venue for Friday's staff lunch.

Wiki

Since some teams are created for one-off jobs or short projects that merge separate teams, it's helpful to have a wiki that outlines all the need-to-knows. This default MS Teams app is the perfect how-to guide to house important information specific to your organisation.

Attendance bot

Keep track of work hours, export timesheets inside Microsoft Teams, monitor remote workers' comings and goings, track holidays, sick days and overtime – this app does it all while letting you visualise the vital data on a dashboard.

ScrumGenius

Keep your business agile with this Teams app that automates your daily stand-ups, one-on-ones, weekly meetings and more. Team members will answer questions at a set time every day about what they achieved on the previous day, as well as any challenges they encountered. This helps team leaders understand how their people are managing tasks and will highlight roadblocks.

Mural

Some people are just more visual than others. With MURAL, this Microsoft Teams app lets users create diagrams on-the-fly to help them think and collaborate visually. Notifications can be sent via private message, and real-time conversations can include template sharing. It's an all-in-one visual collaboration tool.
Where to get Microsoft Teams
For businesses to start using Microsoft Teams, you need a Microsoft 365 account with the appropriate licence plan. The level of your subscription will depend on your needs, so to help you find the plan that is right for your organisation and your long-term needs, contact Antares on +61 2 8275 8811. We are experts in Microsoft Teams deployment and a Microsoft Solutions partner. We will work closely with your leadership team to ensure your MS Teams roll-out is fit-for-purpose and you are equipped with the tools you need to succeed.
External users who are not subscribers to M365 can still participate in MS Teams calls if they receive an invite. You do not need to have the software installed, as you can either join the meeting in-browser using MS Teams online, or call the dedicated conference number and use the PIN provided in your meeting invite.
For more information about adopting Microsoft Teams, contact Antares on +61 2 8275 8811.
You can also contact the Cloud Collective on +61 2 8966 1496 or email us at info@cloudcollective.com.au. We are a proud Microsoft Teams partner who understands the effectiveness of a completely cloud-based collaboration tool.
Get in touch to Find Out More about Teams
Frequently asked questions