What We Do
Microsoft Power BI Services: Everything You Need To Know
Data has always been a critical part of how organisations conduct business. It informs decision making, leads to new innovations and helps companies target new markets. However, in the fast-paced digital world, the sheer amount of data that organisations need to navigate is often overwhelming.
What if you could store that data in an easy-to-use analytics solution and use it to create reports, custom dashboards and interactive visualisations? That's exactly what Microsoft Power BI delivers to its customers.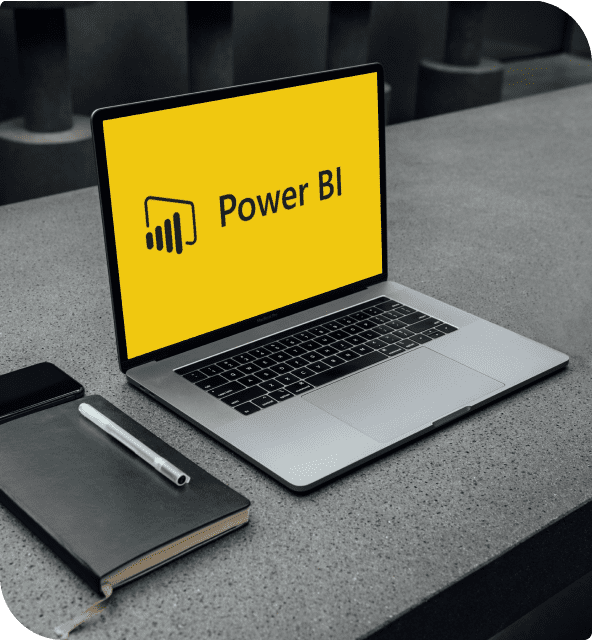 Get in touch to find out more about Power BI
Microsoft Power BI – Explained
Power BI is an all-in-one Microsoft business intelligence solution comprising apps, connectors and software services. While there are many ways to use MS Power BI, it is most commonly used as a data visualisation tool, with customisable dashboards, interactive insights and visually immersive data dissemination all living in the one platform.
Originally released as part of the SQL Server Codename Denali bundle before being renamed and released to the public in 2015, Power BI is helping businesses across all industries manage, mine and visualise their data for reporting purposes and high-level decision-making.

Where that data comes from can range from something as simple as a Microsoft Excel spreadsheet, to reams of data that currently live in the cloud, to on-premises hybrid data warehouses. What Power BI allows you to do is pool those data sources together and derive valuable insights from them. You can then visualise the key information and share it with anyone – whether it's a specific department in your organisation or stakeholders outside the company.

There are three core elements that make up the Power BI service:
Windows desktop-based app called Power BI Desktop;
Power BI Service, which is an online software-as-a-service solution;
Mobile MS Power BI app that is available on Android, iOS and Windows devices
This means organisations have a variety of tools at their disposal to manage their data no matter where they are – in the office, on the go with their mobile, or entirely in the cloud.

In addition to being a visual tool for greater business intelligence, Power BI is also the best way to keep your data secure, with sturdy end-to-end data protection. You can also use Power BI in tandem with Microsoft Azure and Microsoft Office to derive greater value from your data, and there is a library of more than 120 data connectors to ensure you always get a total picture of what your data is doing.
Common Drivers of MS Power BI
No matter what industry they function in, almost every type of business collects data for the purpose of improving their services and offering. The problem now is that the amount of data they are collecting is growing exponentially, which makes it harder to pore through that information and find the most valuable insights.

With Power BI solutions, however, the ability to derive insights and create reports is streamlined. The platform can connect to a huge number of datasets and then parse that information so it is more easily digestible for the user. This means businesses can get a full picture of what's been happening in the past, the present and make educated guesses about the future.
Machine learning is at the core of MS Power BI. That means it can analyse incalculable reams of data and pick out important patterns. The user can then review those patterns in order to conduct A/B testing for potential improvements to the business. The ability to generate such forecasts helps organisations make more informed decisions, and prepare themselves – in whatever way necessary – to meet future demands and even penetrate new markets.
So who is Power BI most useful to? In the past, business intelligence products were in the remit of analysts, data scientists, business technicians and the IT department. However, MS BI was developed as a user-friendly solution able to be used by both technical and non-technical people.

The great thing about Power BI is that basic users can use it to visualise company data and share it with external stakeholders. At the other end of the spectrum, more technical BI professionals can harness its power to generate complex reports and interactive data modelling, and because it can handle pretty much any type of data you throw at it, everyone from the finance department to HR, sales, marketing and more can use it to their advantage.
Why Businesses use Power BI Solutions
The standard Microsoft suite offers users a basic reporting and analytics tool in Excel, but it doesn't have the power to drive better business outcomes. Power BI, on the other hand, is designed to be your go-to tool for detailed reporting and analytical insights. Rather than seeing your important business data in a generic spreadsheet, instead you can create visually enticing reports that offer far greater insights into your operations with the ultimate goal of boosting your decision-making power. These insights know no industry boundary, providing assistance in data driven decisions within Education, to helping the Not-for-Profit sector gain better data insights.
There are so many benefits to MS BI that we can't list them all here. However, here are some of the top reasons why businesses use Power BI solutions:
Trends and predictions
With machine-learning power behind BI, users can analyse their data to help them monitor important trends and even develop intelligent predictions for the future.
Regular updates
Living in the cloud, you can always be assured that Power BI's algorithms and business intelligence capabilities are constantly updated.
Custom alerts
Set up dedicated alerts on KPIs to ensure the most important metrics are always front-of-mind for your team.
Total integration
Power BI connects with an incredibly large number of other business management solutions, like Microsoft's 365 suite, SharePoint and Dynamics 365 – as well as non-Microsoft tools like Salesforce, Google Analytics, Hadoop and more.
Unmatched capacity
Whereas other platforms struggle and sluggishly process large amounts of data, Power BI thrives on your business's huge datasets.
Visualisation
Make your data sing with pre-made and custom-designed templates for reporting and insights.
User-friendly
Many users struggle to grapple with anything beyond data entry for Excel, whereas Power BI is an intuitive and navigable solution that's accessible to all tech skill levels.
Secure data
Keep your data protected in the cloud, on-premises or both with Power BI's end-to-end data security.
The Different Power BI Online Solutions
Microsoft deliberately designed its Power BI solutions with the intention that they could be used by all types of businesses – from sole traders to micro-business, SMEs, multinationals and everything in between. That's why you'll have a number of different versions of MS BI to choose from, depending on how much you want to spend, what your business needs are, and how you want to deploy the solution (e.g. on-premises or entirely in the cloud).
Here's a quick rundown of those versions and what you can expect from each:
Power BI Desktop

This is the free version of Power BI and is helpful for cash-strapped small businesses that only need the basics. The main drawback is that you can only get 10GB of cloud storage, uploaded 1GB at a time. You also can't share any of your reports with other users, and any reports you publish online will be made public – which will likely be a deal-breaker for companies handling sensitive data.

Power BI Service (Pro and Premium)

The is the full version of Power BI and is hosted in the Microsoft Azure cloud. With Azure Power BI, you can choose between Power BI Pro, which is charged on a per-user basis. You'll get access to all the advanced features of the platform, plus the ability to share your reports. If you're a larger enterprise, Power BI Premium may be more cost-effective as licences are measured on a scaled system. (You can read more at 'Choose your Azure Power BI: Desktop, Pro or Premium')

Power BI Mobile

The native app for MS BI, Power BI Mobile lets you access all your dashboards and reports while on-the-go – whether or not the data lives in the cloud or on-premises. You can set up push notifications, create reports, make queries and get alerts directly to your mobile device. Power BI Mobile is available across Windows, Android and iOS devices.

Power BI Embedded

This is the 'white label' version of Power BI. It's a solution that lets independent software vendors deploy the functionality of Power BI in their own apps, instead of having to build and customise their own reporting features. It works on a pay-as-you-go model and is a smart tool for developers who need to streamline bringing their apps to market.

Power BI Report Server

For organisations that need a dedicated solution to keep their sensitive data and reports on their own servers, Power BI Report Server is an on-premises version to ensure everything is kept safe and secure in-house. It's a great choice for businesses that need to abide by particular data protection and regulation laws, depending on their industry or their geographic location. (You can read more at 'MS Power BI Report Server')
5 Key Components of Microsoft Business Intelligence
One of the best parts about Power BI is the swathe of apps it provides. So for most businesses, it will act as an all-in-one data reporting and analytics tool. While each app has its own unique features and uses, most users will get very familiar with five key components.
Power Query

A powerful data mashup tool that lets you get to grips with data from multiple sources – whether you want to transform the data, combine it with something else, or simply enhance it for greater value.

Power Pivot

In simple terms, Power Pivot is MS BI's memory tabular data modelling tool. Use it to create data models that highlight important business information for future decision-making.

Power View

A comprehensive data visualisation tool that really goes above and beyond in terms of how customisable it is. Interactivity is the name of the game with Power View, so use it for business charts, maps, graphs and any other visual you can think of.

Power Map

A more complex data visualisation tool, Power Map is all about creating three-dimensional – and highly immersive – geospatial maps. Make your data sing and wow stakeholders with Power Map presentations.

Power Q&A

For complete user-friendliness, Power Q&A is a natural-language tool that encourages users to ask questions about their data without needing to use complex terminology. Essentially, it's a question-and-answer engine that works in plain English.
The Business Benefits of MS BI
Businesses will use Power BI for a variety of purposes depending on their current data needs and their long-term goals. However, some of the biggest features of MS BI for organisations include:
Cortana integration: Get total buy-in from your teams with the accessibility of Power BI through Cortana, Microsoft's digital assistant. It means users can make verbal queries in natural language and get the results they need fast.
Artificially intelligent solutions: Create machine-learning models, leverage the power of image recognition and text analytics, and even integrate with Azure Machine Learning – all in Power BI.
APIs for embedding: Get all the capabilities of Power BI in your own software by embedding the dashboard with the help of application performance interfaces (APIs) and sample code.
Fast insights: Want to quickly create data subsets and automatically apply analytics to them? You can with Power BI.
Totally customisable: You don't have to be content with the default offering – customise your data visualisations and reporting tools, and even import other tools into the solution.
Hybrid deployment: Power BI's built-in connectors make it so easy to link your solution with a range of other data sources, whether they are from Microsoft products or elsewhere.
Choosing your Azure Power BI: Desktop, Pro or Premium
So you've decided that Power BI can add real value to your organisation. Now it's time to choose which version will align best with your needs. It's the question everyone in the C-suite wants to know: Desktop, Pro or Premium? A Power BI consultant can help you make better business decisions, but for starters here's a rundown of what each version offers.
Power BI Desktop

This is the free version (also available on-the-go as Power BI Mobile) that lives on your desktop and provides a range of data modelling, data creation and data visualisation tools.

The desktop version of Power BI is included for free on all Microsoft 365 plans, and you can sign up for it whenever you want. While this is a helpful starter version to give you an idea whether it's right for your company, in most cases it won't be the best long-term solution. That's because your total storage in the Power BI cloud is limited to 10GB, and you can only upload up to 1GB at a time. For companies with large amounts of data to house, that simply won't be enough.

Also, while you can refresh your reports to keep them up to date, you can only do it eight times daily with Power BI Desktop. You also can't share anything with other users and external stakeholders. And if you do decide to publish a report online, it automatically goes public. While this won't be a problem for some businesses, others dealing with sensitive data will need to upgrade to the paid version in order to get that extra level of protection.

Power BI Pro

This licensed version is one of two that makes up Power BI Service – although it's generally only referred to as Power BI. It's hosted in Microsoft's secure Azure cloud platform, and while you get all the same things as you would with Power BI Desktop, there is a key difference: sharing.

With Power BI Pro, you can share all your data, all your visual reports, all your dashboards –everything – with other people, so long as they also have Power BI Pro. That's extremely valuable for mid to large-sized organisations, especially those spread across the country or even globally.

You also get a bundle of other extras, such as the ability to build 'app workspaces'. Here, you can design content packs that are easy to access and filled with relevant dashboards and reports.

Power BI Premium

The other version of Power BI Service is the Premium model. Here, instead of the pay-per-user model of Power BI Pro, you pay on a scaled setting. That means you only pay for the amount of space and processing capacity you need.

Premium is the go-to choice for large enterprises, and you get to choose from six capacity models with different memory sizes. In essence, you get all the infrastructure you need supplied by Microsoft – with all the support services that entails as well.

Exclusive features of Premium include 100TB of data storage, 50GB cap on datasets, and access to Power BI Report Server where you can store, on-premises, your valuable business intelligence assets.
How to Integrate Power BI in your Business
There's no doubt that Microsoft Power BI is a highly accessible, intuitive and user-friendly solution for all your data needs. And while many businesses will only need to use the more surface-level visualisation and analytics tools, it's important to get your team across the ins and outs of the platform.
Antares is a market leader in everything from data visualisation to machine learning and AI, software development, cloud migration and much more. We are also adept at helping organisations leverage the value of Microsoft Power BI for their specific benefits. That's why we offer a comprehensive training experience to help your most important business assets –your people – learn how to access, analyse and visualise data through Power BI.
If you're unsure what version of Power BI will suit your needs, or if you need help deploying it in your workplace – whether you want a fully cloud-based tool, a hybrid model or an on-premises solution – an experienced Power BI consultant can take care of everything for you. Simply contact Antares – which is one of four leading Microsoft Solutions Partners that make up the Cloud Collective – by calling +61 2 8275 8811.
MS Power BI Report Server
Despite the flexibility, security and sheer accessibility of the cloud, some businesses simply can't store their data in it. Whether it's a connectivity or infrastructure issue, or difficulties keeping their data in the cloud with new and ever-changing data regulations, they need an alternative. Enter, Power BI Report Server.

This is an on-premises Power BI product that accompanies Power BI Premium licences. Security is paramount, with the solution able to be deployed behind a firewall. What's more, if your organisation is in the middle of – or hasn't yet started – its data transformation, Report Server is compatible with Power BI in the cloud, which means you can migrate to it whenever you are ready.

There are some key elements of Power BI Report Server to bear in mind. Users must run it through the Power BI Desktop app – not in a web browser – and it's mostly concerned with report generation. Its update cycle is also slower than standard Power BI: occurring every four months rather than monthly.
Where to get Microsoft Power BI Online
Businesses can sign up and start using the free version of Power BI Desktop anytime. However, in most instances you will want to upgrade to either Pro or Premium, depending on your needs. Since the value of Power BI is so diverse, and different businesses will get different things from it, choosing the right version isn't always easy.
A Power BI consultant can help you find the version that is right for your organisation and your long-term goals, so get started today by contacting Antares on +61 2 8275 8811. We are experts in Microsoft Power BI deployment and a Microsoft Gold partner. We will work closely with your leadership team to ensure your MS BI roll-out is fit-for-purpose and you understand all the ins and outs of this world-class data visualisation and analytics solution.
For more information about adopting Microsoft Power BI, contact Antares on +61 2 8275 8811
Frequently asked questions