What We Do
Microsoft Power Platform: Everything You Need To Know
Microsoft's Power Platforms are a suite of tools consisting of Power BI, Power Apps, Power Automate, and Power Virtual Agents which work together to solve organisational challenges. They provide capabilities that can be executed by end users which previously required experts with coding experience to conduct, such as automating business processes and the building of custom virtual assistants.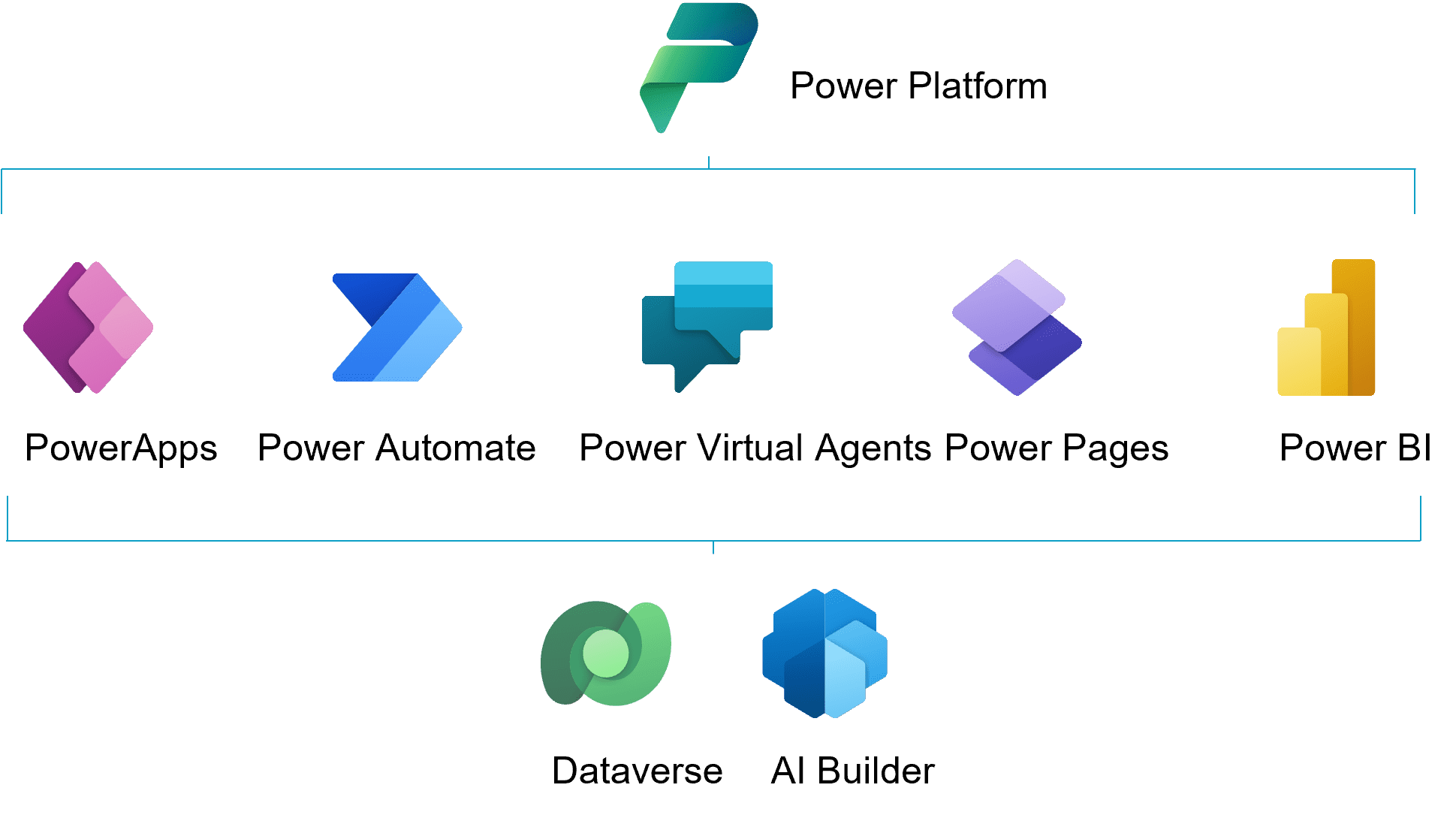 Speak to a Power Platform expert now
Microsoft Power BI
Make data-driven decisions with self-service analytics and insights
Power BI gives your staff the power to uncover insights hidden within your data and translate it into spectacular visualisations and reports that can be easily shared across the organisation. It can pull data from various unrelated sources whether that's from an Excel spreadsheet or sales reports and turn them into easily understandable and clear snapshots regarding the organisation – no data scientist expertise required. Create a data driven organisation and empower staff of all levels to make quick and confident decisions using meaningful data.
Microsoft Power Apps
Easily create and launch mobile applications – no developer needed
Creating apps from scratch can sound like an intensely complex task that'll require a team of expert developers and designers working together for several months, however with Power Apps that is no longer the case. Power Apps gives your organisation the ability to rapidly build custom apps catered towards your business needs in an all-encompassing platform. With Power Apps, technical expertise and coding experience are no longer required allowing even non-technical employees to create custom apps and deploy it via mobile or the desktop browser.
Microsoft Power Automate
Say goodbye to tedious, manual tasks and operate faster with automated workflows
Inefficient, manual tasks are every organisation's biggest headache. They're time intensive yet necessary to the entire underlying operations. This is where Power Automate can do the heavy lifting. Power Automate enables you to automate your manual tasks by giving your staff the ability to build integrated workflows into all kinds of tasks and systems. Unlock huge time savings with intelligent workflows and process automations between a realm of applications such as Facebook and Salesforce, all whilst focusing attention on core business areas.
Microsoft Power Virtual Agents
Meet your staff's needs with rapid creation and a launch of intelligent chat bots
There's no denying that for the modern organisation, artificial intelligence is the key to staying ahead of competition. With Power Virtual Agents, you can easily create custom virtual agents that resolve common customer and internal queries on demand, all without the need for coding or developers. Leverage the capabilities of artificial intelligence that can adapt to your unique needs and free up your staff's valuable time so they can focus on more important tasks.
Why Antares?
Antares Solutions is a leading Microsoft Solutions Partner that has established itself as a leader in both industry and technical experience in the implementation of Power Platform solutions. Our years of technical experience ensures that what we promise is what will be delivered and successfully implemented. Paired along with our technical expertise is our thorough industry knowledge that propels us to understand the exact requirements of our customers, where we work closely with them to fine-tune their needs in an agile manner. The result of this seamless blend is a user friendly solution that has the needs of the customer at its core, embodying a refined interface that is both functional and easily accessible.  
Our Services
App Assessment

Our App Studio team will utilise their expertise to assess your requirements for a new app or the migration of an existing app to the Power Platform, as well as how everything will fit within the current environment.

Power platform – Proof of Concept

Our Proof of Concept service provides a demonstration of one or more aspects of the Power Platform based on your specific use case before implementation.

Hackathon

We run a one-day workshop within a structured environment where you can apply your newly acquired Power Platforms skills into practice. Our expert team will provide you with the necessary guidance and support as you apply your learnings to a real-life business problem.

App Development

If you have a specific vision in mind and need help with bringing that to life, we can help! Our app development service can help you envision, design, build, and release an app dedicated towards your organisation's special needs and requirements.

Power Platform Governnce

Antares Solutions will assess your as-is use of Power Platform and recommend a tailored governance framework that aligns with your business needs and relevant regulatory requirements.