A Proven Approach to Delivering Our Solutions
Antares Solutions was founded with a vision to provide reliable service whilst building strong partnerships with our customers. For 15 years, Antares has maintained the highest level of service delivery, helping many organisations solve their unique business problems.
Our success has been, in large part, due to our tried and tested approach, "The Antares Way". The Antares Way is a 6-stage proven process, which outlines how we deliver our services end-to-end. It serves as our manual with clearly defined outcomes, systems, processes and owners, ensuring consistency and high levels of accountability at every stage.
In putting together the Antares Way, we took into careful consideration our customers' journey as well as our Core Values and industry expertise.
Our Process

Discover
Our Marketing and Sales teams work with our customers to understand the real problem and envision a potential solution that best fits.

Propose
Our Sales team go further into the detail and provide our customers with a clearly defined scope of work. We create a roadmap for you, allowing for key priorities and appropriate timeframes.

Engage
A smooth transition from our Sales to Delivery team is key in setting all our projects up for success. This starts with a detailed internal handover and assigning the most suitable resources.

Deliver
From planning to implementation, our Delivery team is committed to ensuring our customers get what was promised and on time. Our process adopts the Agile or Waterfall methodologies to provide focus on key deliverables whilst also allowing for flexibility.

Review
We want to ensure our customers are happy with the end-result. We don't walk away from a project without a thorough review and final acceptance. Post-project, we encourage customer feedback as well as taking a moment to celebrate success with you!

Support
We are always looking for ways to support customers now and in the future. Our Delivery team ensures there is a smooth transition from project to business-as-usual. We have a dedicated Support team to serve your ad hoc needs, be it fixes or enhancements.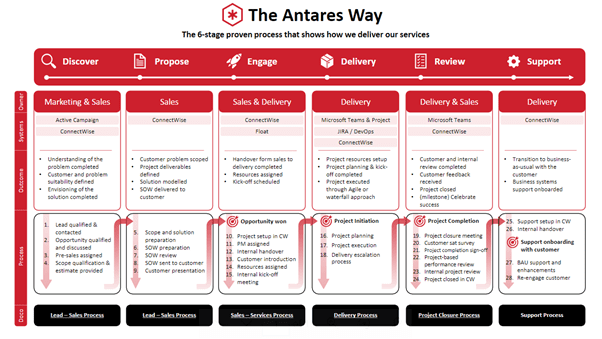 Antares Solutions is proud of our proven track record. Our customers trust us to always deliver the best. We rely on our breadth of expertise, years of experience, our commitment and our tried and tested approach to service delivery – The Antares Way.
We go beyond providing out of the box solutions and instead, implement a rigorous process of gathering requirements, identifying the real problem and developing creative solutions that meet our customers' needs. We love working closely with our customers and The Antares Way is designed to have as many touch points as possible with you. We understand that achieving the best business outcomes requires a strong partnership with our customers.
The results are clear! Our services and solutions have reshaped the way organisations work and have enabled more data-driven decisions. Our customers have seen improvement in their user adoption, efficiency and compliance, ultimately saving time and money. Whether its digital transformation, managing processes and information-sharing or improving staff collaboration, we got you!
Our People are our Greatest Assets