Organisation-Wide Transformation at Lutheran Aged Care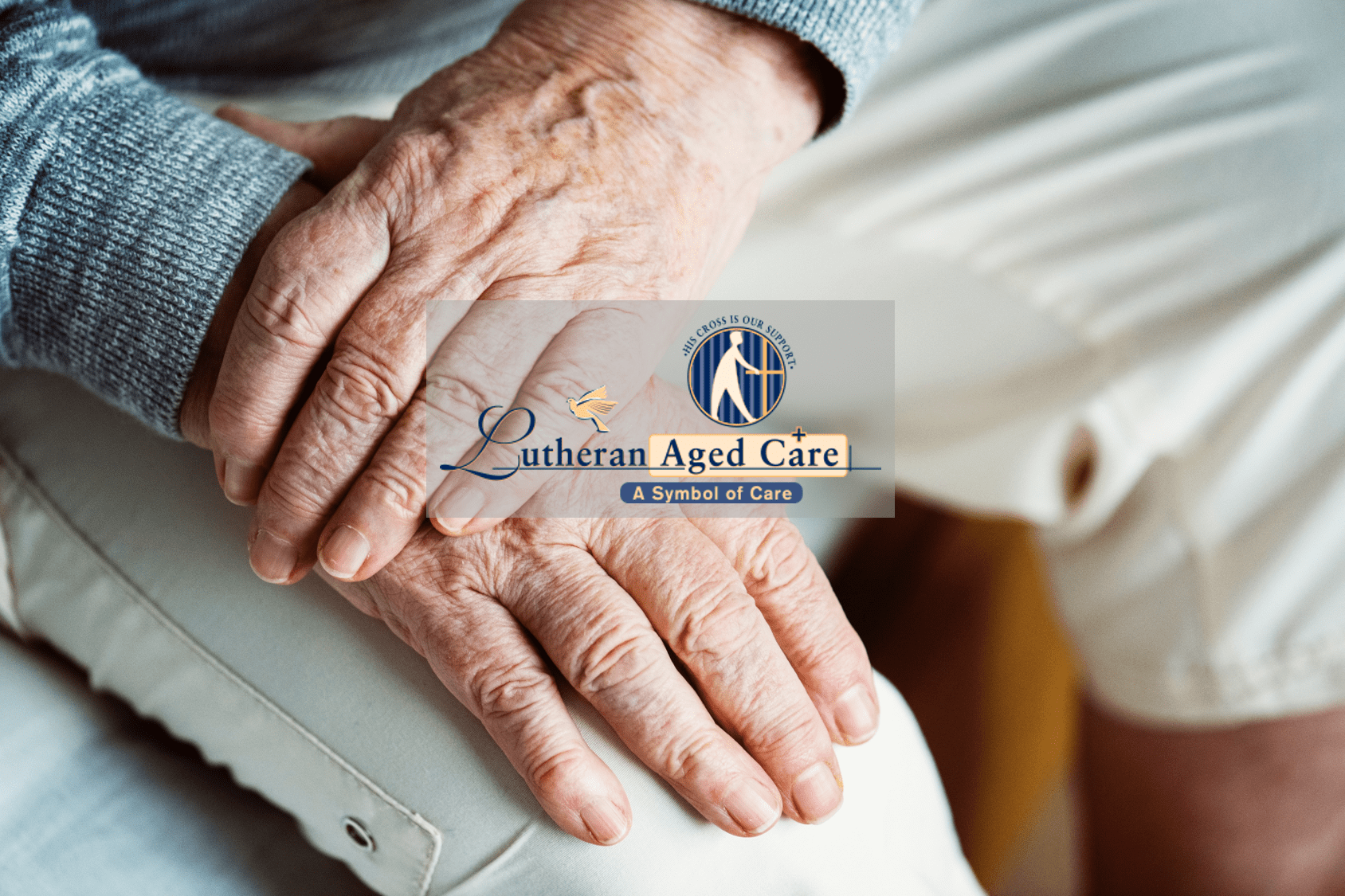 When Lutheran Aged Care needed to bring its operations into the 21st century, Antares developed Space to overcome its key business challenges.
Overview
Lutheran Aged Care owns and manages ten supported living communities across regional and urban Australia. It provides quality and contemporary support and accommodation for older people looking for in-home support, retirement living or aged care options. It is also a community services provider that delivers support and accommodation to those in need within the communities it serves.
Lutheran Aged Care employs over 300 people in a variety of carer, administration and management roles.
Like many organisations in the aged care industry, Lutheran Aged Care was under pressure to operate more efficiently with the use of technology. Lutheran Aged Care found their ageing IT systems that contributed to several challenges including:
Unwieldy document management
Limited control over essential documents
Employees storing information on desktops and personal drives instead of corporate repositories
A reliance on paper and fax to complete administrative tasks.
The organisation also lacked an intranet and a single source of truth for corporate information, which made it challenging for staff to locate documents and forms in a timely manner.
To overcome these difficulties, Lutheran Aged Care sought an intranet solution that could transform multiple aspects of the organisation's operations. It wanted a solution that would:
Support organisation-wide digital transformation
Provide a single source of truth
Save time and money while improving efficiency
Provide a formalised style guide and encourage document and information consistency and quality.
"We were a paper-reliant organisation. We installed our first care management system ten years ago and needed to join the 21st century." – Louise Shields, Quality Systems Framework Manager, Lutheran Aged Care Albury.
The Solution
Lutheran Aged Care engaged Antares in 2017 to develop a solution that would address the needs of the organisation – the platform of best fit being SharePoint Online. Antares was selected for its value-for-money pricing and the simplicity of its proposed Space solution, which leverages ten years of intellectual property and over 200 SharePoint deployments to guarantee success. Antares' customer-centric approach delivers a fully functional intranet in 75% less time than traditional intranet projects, with cost savings of up to 50%.
Antares' efforts focused on empowering employees to work productively in a mobile environment. The solution also needed to allow for two-way communication, so users could consume information as well as contribute knowledge and collaborate with their peers. As such, Lutheran Aged Care named the solution 'Chatline,' to reinforce the idea of communicating freely with others.
Key solution components included:
• Internal news and events – making this information easily accessible to ensure staff are up-to-date with what's happening in the organisation.
• Document management system – a single source of truth for all policies, procedures, templates and guides. Each document is tagged and managed by metadata for easy filtering and searching.
• Staff recognition – an avenue for publicly recognising excellence within the organisation and congratulating peers on a job well done.
• Internal vacancies – visibility of internal job vacancies by integrating with Lutheran Aged Care's HR system (ActionHRM), displaying current opportunities on the intranet home page.
• Employee noticeboard – a forum for all staff to share and build on ideas with one another.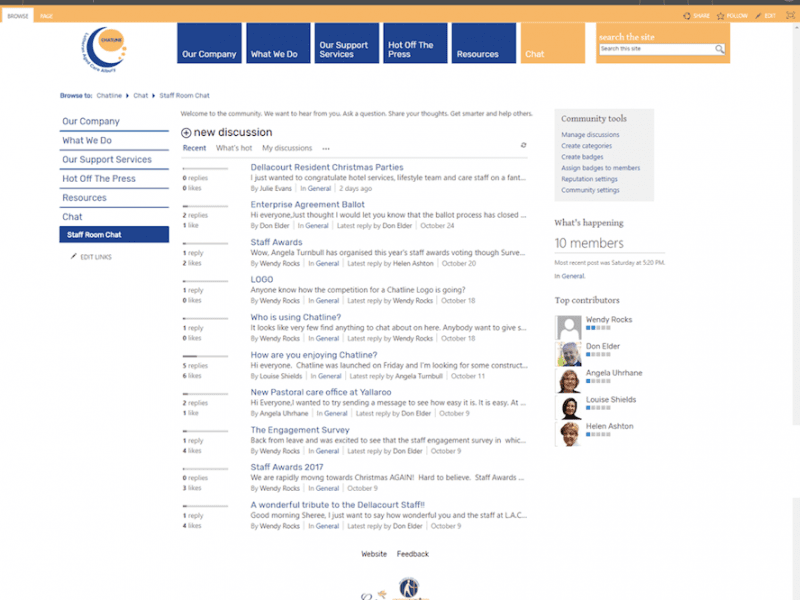 Benefits of Working with SharePoint Online
The advantages of working with SharePoint Online included access to productivity tools such as:
Document co-authoring – allowing multiple users to work on a single document together in real time. Documents are managed in SharePoint Online ensuring seamless document control.
Mobility – users can access the intranet at any time, on any device. They can also view and edit documents on the go with browser-based apps.
Version history – SharePoint automatically creates document versions. This means a previous version of a file can be quickly viewed or restored. Accidental document deletions do not require an entire rewrite.
Design and Branding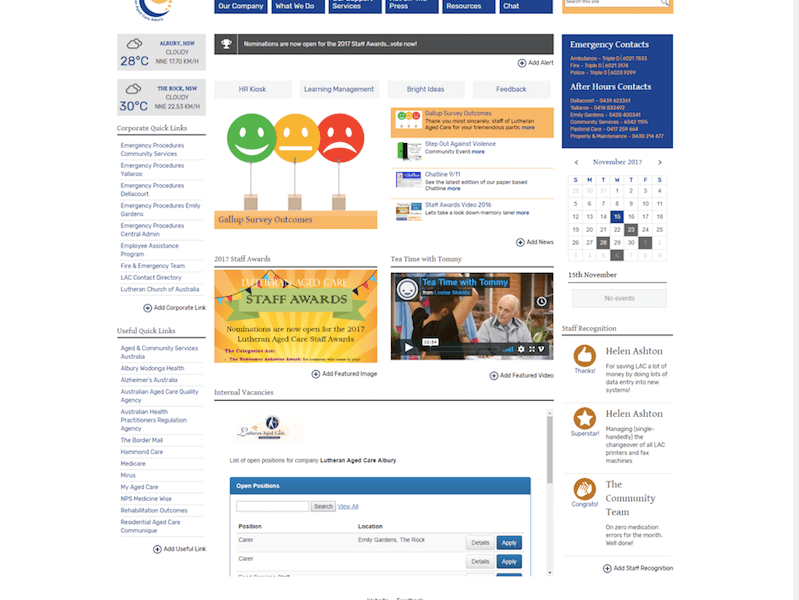 All elements of the solution were configured to match Lutheran Aged Care's corporate colour scheme. The solution is also mobile-responsive so that users have a consistent experience regardless of the size of their screen display.
Overcoming Challenges

One of the biggest challenges for Antares was ensuring the solution was accessible to Lutheran Aged Care's non-desk-based employees, which represent a significant percentage of its workforce. This was addressed in two ways:
iPads were provided in residential care staff lunchrooms so staff can access the intranet – which is refreshed all day, every day, in real-time – at their convenience.
Home care staff who spend working hours visiting clients in their homes were provided with corporate email addresses so that they can access SharePoint (via Office 365) from anywhere at any time.
Because many Lutheran Aged Care employees were unfamiliar with SharePoint or Office 365, Antares spent a significant amount of time on training and driving user adoption. It facilitated a two-day workshop with key stakeholders to ensure that every page was relevant and had a purpose. It also demonstrated functionality including search functions and staff directories, which the client rated as extremely valuable.
The project took four months to complete and went live in September 2018. This included time for upskilling sessions for Lutheran Aged Care staff, who were to take on the additional responsibilities of creating and publishing intranet content.
"Antares did a fantastic job. The solution meets our changing needs and we know that we can go back to them to further develop the solution if required." – Louise Shields, Quality Systems Framework Manager, Lutheran Aged Care Albury.
Results
Almost half of Lutheran Aged Care employees now have access to Office 365, including many who work out in the field. Since implementing the solution, Lutheran Aged Care has reported additional benefits including:
Greater oversight over corporate documentation, with policies and approved forms now stored in a single repository
Increased efficiency
Improved ability to keep the information up to date
Reduced printing and faxing, leading to a cull of 54 desktop printers
To encourage employees to start using SharePoint and Office 365, Lutheran Aged Care has also changed the paper version of its staff magazine to digital (available directly on the intranet). This has helped to drive behavioural change within the organisation and encouraged immediate solution adoption to employees.
"We needed to give our staff access to current technologies and prevent them from being held back by old hardware. Now everything we do is based in the cloud and internet/intranet. It's a new way of doing things." – Louise Shields, Quality Systems Framework Manager, Lutheran Aged Care Albury.

Future Plans
Lutheran Aged Care views Antares' efforts as a springboard to other solutions, upgrades and savings. It is now rolling out additional Office 365 functionality, including OneDrive and Skype for Business. It plans to expand its use of Office 365 and SharePoint throughout the organisation as hardware upgrades continue.
The organisation is also considering extending the solution to further streamline document management with the use of automated workflows and document approvals.
Digitally transform your organisation today!