Reading Time
3
minutes
As education technology specialists, we've been privileged to work on some exciting projects over the past several years.
One trend that appears to be dominating is the rapidly growing interest in learning analytics in all education sectors.
The ability to harness data to enhance decision making is revolutionising how we teach and learn. Where traditionally we may have put a finger to the wind and made best guesses based on experience, we can now use data to gain profound insights on everything from teaching strategies to student engagement.
These insights are facilitated by smart analytics programs that manage the collation of data for us, such as:
student attendance
individual or group performance (grades, NAPLAN scores, etc.)
learning engagement
social networks
and much more
However, rather than just serving up individual data points, the analytics programs use artificial intelligence and machine learning to make valuable connections between them. As a whole, this allows us to see well beyond the basics and build rich student profiles that support teaching and learning at a much deeper level.
The evolution of learning analytics
Many schools already have some type of analytics they use that provides rudimentary results, but does go some way towards supporting teachers with their planning activities.
Fortunately, several "centres of excellence" have popped up in recent years to take this capability to the next level by applying advanced data science theories.
One such centre is The Centre for Change and Complexity in Learning (C3L) at the University of South Australia. C3L is one of the top edtech research centres in the world and has extensive expertise in learning analytics and learning sciences.
Antares formed a unique industry partnership with C3L to help education institutions plan and deploy new learning analytics solutions. The partnership gives our clients access to a "one-stop shop" for the latest scientific advances, as well as expertise in data, AI and digital best practice as they apply to teaching and learning.
Another centre of excellence is the Open Education Analytics (OEA) program offered by Microsoft, of which we are an advanced partner. Having worked closely with Microsoft for many years on data and analytics in the education space, it has been fantastic to see this open-source program evolve as more institutions get involved and contribute their knowledge and experience.
We became part of OEA so we could leverage this collective knowledge to develop superior implementations for our clients. We see initiatives such as these as instrumental to advancing the potential of learning analytics and its ability to enhance educational outcomes.
How learning analytics works
In the past few years, we've assisted many education institutions to take their learning analytics to the next level.
For example, we're currently working with several K-12 schools to deploy an integrated learning analytics program that acts as a single pane of glass through which to view consolidated data on everything from student engagement to class or year performance.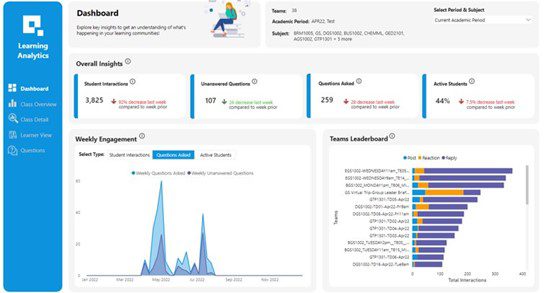 Our data scientists have years of experience working with many different education systems and solutions. Every solution is different, and must take into account a school's data maturity level, existing systems, and key objectives.
The other essential element for teachers is that it must be highly intuitive and easy to use. Being extremely time poor, they want to see critical information at a glance – complete with visual displays of high-level data and the ability to drill down for more information as they need it.
Ultimately, the purpose of learning analytics is to equip institutions and teachers with practical insights to improve learning outcomes. When they understand how their students are engaging, and who they're engaging with, they're able to develop a well-rounded learner profile and adjust their approach accordingly.
They can also use historical data to predict future results or trends, to more easily identify risks and opportunities for individuals, groups, and even the school as a whole.
At Antares, we're genuinely excited about the future of learning analytics in our schools. We've seen first hand the positive impacts it can have and know there's many more to come as we continue to see new advancements in this space.
To start a conversation about introducing or enhancing learning analytics in your school, call us on (02) 8275 8811 or contact us.