SharePoint Intranet Solution
The increase of technology in daily life has allowed individuals to become more connected and engaged with one another than ever before. Intranets have become a core addition to many organisations' source of collaboration and enforcement of company culture. Despite its humble beginnings, the intranet has drastically transformed over the past few decades solidifying its spot as a key component of the shift to a digital workplace.
However, with so many different intranet platforms on the market, choosing the right one can quickly become overwhelming. Microsoft's SharePoint has quickly become one of the most popular intranet platforms in the business world, with over 78% of the fortune 500 companies using it. Here's why you should consider SharePoint for your organisation's intranet needs:
What is Microsoft SharePoint?
To explain what SharePoint is, we first need to do a quick rundown on what an Intranet is. An Intranet is a private platform designed for internal employees to share information, collaborate and stay informed. Microsoft SharePoint is a web-based platform offering that is part of Office 365 and enables organisations to create websites for storing, sharing and accessing documents. SharePoint encompasses multiple functions from a central file repository to an Intranet to business intelligence and is a powerful tool for teamwork.
A good Intranet solution is like Grand Central Station operating at maximum efficiency. Things are getting done and all the processes are streamlined with no broken lines of communication. Whilst Intranets are mainly used for collaboration and document management, its capabilities extend much beyond that. SharePoint Intranets can offer your organisation rich modes of communication to everyone and champion a vision that keeps your employees in the loop with company updates. There's no denying that the circulation of key information plays a key role in organisations achieving success as employees feel included and valued. Now, we're all getting busier with tasks and posting a company update can easily slip the mind of managers working with 8 hours back-to-back meetings. Make technology your friend and allow our SharePoint Intranet Portal to relay critical information across your organisation.
Why choose SharePoint?
SharePoint is the top choice for Intranet solutions by professionals and organisations around the world, and for good reason too. Built with people at its core, Microsoft SharePoint takes collaboration to the next level with its various useful functionalities. Choose SharePoint as the platform for your company Intranet and enjoy:

Intelligent search engine
Instantly find what you're looking for with a smart search engine that is second to none
With dynamic adjustments and powerful file indexes, receive the most relevant results based on your user interactions

Tight security
Maintain easy compliance with regulatory policies by specifying security levels and control arounds your organisational assets
Allow only authorised individuals to access and share confidential documents and files to minimise data breaches.

Time efficient automation
Set up automation functionalities and let workflows do the heavy lifting
Leverage the power of automation and help your organisation save both time and money

Unparalleled collaboration
Facilitate unrestricted collaboration between team members with organised document access
Share, co-author and edit files with real time updates.

Streamlined document management
Achieve more by knowing where your important documents are with robust storage and access capabilities
Seamless integrations with Office 365 allow for easy access, version views and knowledge sharing all in one place.

Effortless customisations
Personalise your Intranet and align it with your company's branding by easily changing the logo, colours and navigation without the need of writing a single line of code

Integrated social features
Engage your employees by enabling them to easily locate and connect with the right people and files
With functionalities such as personal profiles and interests, SharePoint acts as an interactive social Intranet software for employee engagement and interaction.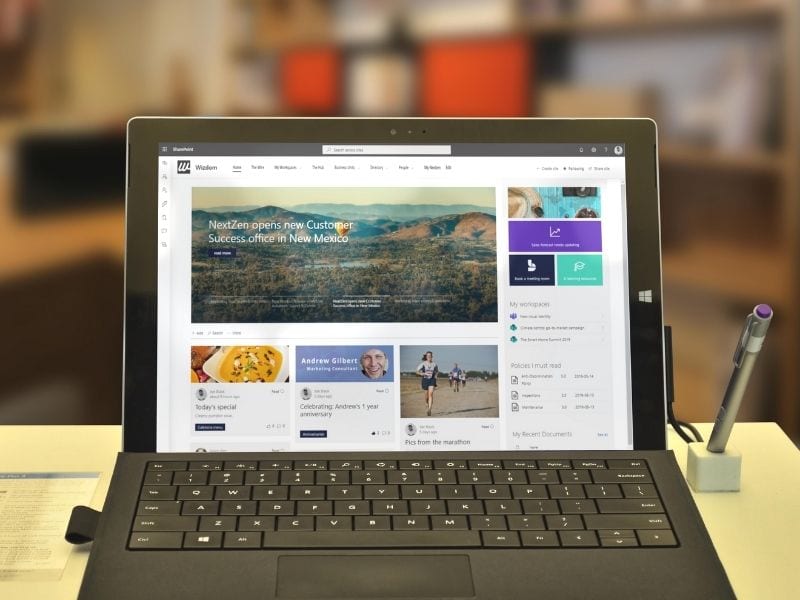 SharePoint Intranet Solution

Welcome to the last intranet solution you'll ever need!
Modern, flexible, scalable – your complete enterprise-grade intranet solution deployed in as little as 7 weeks. As Australia-based experts with 10 years of experience, we've successfully executed over 200 intranet projects, including a significant portion of Australia's leading organisations. Read about how Antares deployed a custom SharePoint Intranet solution for one of the busiest International Airports in only 8 weeks here.
Remote working made easy with SharePoint Modern
Keep your workforce connected on any device, from anywhere, with Microsoft SharePoint Modern.
Your teams will always be in the loop with optimised compatibility across all devices, accessible from any location across Australia.
Just as each department of your organisation has a unique role in overall operational success, with SharePoint Modern, you can draw upon, embed and integrate the extensive library of Office 365 applications for enhanced everyday functions online.
Express yourself with scalable, customisable dashboards & personal profiles and keep your workplace culture thriving even from home.
Collaborating with your team is never an issue with seamless document management.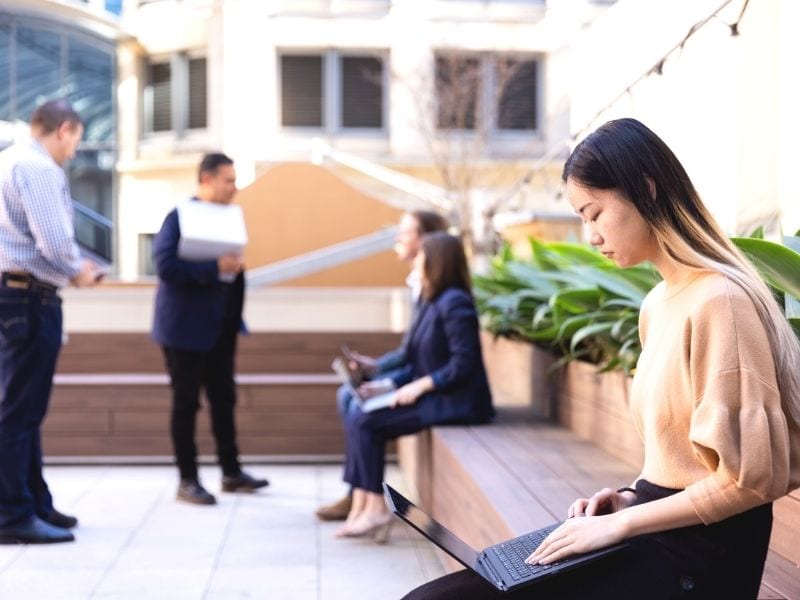 #SPACE speaks for itself
With our Space Sharepoint Intranet solution, you don't have to worry about coding, slow functional performance of custom code or the cost of additional licenses. The beauty of Sharepoint is in its simplicity. Everything is ready to go from the start – and the start is with you.

Centralised source for corporate news, events and resources.
Seamless end-to-end technical and organisational application.
24/7 access to information from any device so that you can keep up with the modern 50% of the workforce that is expected to be mobile by 2020.
Changed priorities as sharepoint intranet is easy to extend and modify iteratively, rather than in one long coding startup process

Compatible with SharePoint Online, SharePoint on-premises and Microsoft Teams.

Hands on guidance for your employees so they can enjoy #Space with no confusion.
Constant access to help by a local partner for continual sharepoint intranet development.

Stay fresh with ongoing updates from Microsoft platforms.
Implemented by an award-winning Microsoft Gold partner with over 25,000 hours of sharepoint development experience.
Enterprise features that include a knowledge base, staff directory and collaboration workspaces in an enhanced modern sharepoint intranet setting.

Tailored to your business with total freedom.
With no ongoing licensing, #Space is flexible and scalable.
Reduce your ongoing costs of a poorly implemented intranet by 50% with #Space pre-configuring 80% of your intranet requirements in 75% less time.
Focus on simplification with sleek designs and simple pages, over stressful, complicated solutions
Choosing your SharePoint version: online vs on-premises
So, you've decided to go with SharePoint for your Intranet, now comes the age long debate – should you go with the cloud or on premises? Our expert consultants can help you choose the best option but here's a quick rundown on the various options on offer.
SharePoint Online
SharePoint Online is the cloud version of Microsoft's SharePoint offerings and includes all the powerful features without the hefty overhead costs. There are currently three SharePoint Online plans – Online Plan 1, Online Plan 2, and Office 365 Enterprise plans.
Online Plan 1
Whilst SharePoint is often bundled with Office 365, it is also available as a standalone product.SharePoint Online Plan 1 is suited for small to middle sized organisations looking to leverage the basic features of OneDrive and SharePoint with a few exclusions in place. It is priced at $6.90 a user per month and is a perfect starter plan for a taste of whether SharePoint suits your organisational needs.
However, for organisations looking to expand and grow, Online Plan 1 wouldn't be a feasible long-termoption as the individual OneDrive storage is limited to only 1TB and you aren't provided with customised search options.
Online Plan 2
SharePoint Online Plan 2 has all the full capabilities of SharePoint Online including all the features of Online Plan 1. This plan is suited to large organisations and enterprises looking for unrestricted access to SharePoint's capabilities and enterprise solutions. Online Plan 2 is priced at $13.70 a user per month.
With Online Plan 2, organisations have extra features such as unlimited access to OneDrive storage, the ability to customise their enterprise search and locating content in electronic formats for legal or litigation purposes. For organisations operating with sensitive information, Online Plan 2 also offers advanced DLP abilities for increased protection and monitoring. These extra features are perfect and valuable to organisations who have large bulks of information to house and share.
Office 365
As part of the Office 365 enterprise plans, organisations can have access to all of the cloud-based suite's productivity apps as well as SharePoint Online. Depending on the plan purchased with Microsoft Office 365, either SharePoint Online Plan 1 or Online Plan 2 is included within the package. The lightest version of Office 365, E1, is limited with only web access to Microsoft's Office apps such as Outlook and Word. The E1 subscription also includes access to SharePoint Online Plan 1, Yammer and Teams but with lower security capabilities than E3 and E5.
Both E3 and E5 include SharePoint Online Plan 2 as part of their subscriptions and include desktop access of the Office apps. E3 is the most popular option for organisations with its wide access to storage, document management, Power Apps, and compliance capabilities. This plan is perfect for organisations looking to unleash integrated collaboration features with BI tools and increased security compliance.
The E5 subscription plan encompasses all the advanced features that Microsoft has to offer and embodies the highest level of security compliance. Extra security capabilities such as threat protection, information protection and advanced compliance are included within this package and is well suited to organisations operating with sensitive, confidential information. Other exclusive features include advanced analytics for organisational insights and voice features for audio conferencing needs.
As Microsoft 365 includes Office 365, organisations subscribed to an existing Microsoft 365 plan alsohave access to SharePoint.
SharePoint On-premises
SharePoint On-premises as the name suggests involves SharePoint being hosted locally on your server where your internal IT team is responsible for the maintenance, management, and security of the SharePoint platform. With the On-premises version, organisations are able to obtain greater control over their SharePoint due to greater customisation capabilities. Whilst SharePoint Online is licensed on a per-user basis, SharePoint On-premises involves a client access license model (CAL) where there is no fixed pricing. There are two types of CAL licenses – SharePoint Standard CAL and SharePoint Enterprise CAL. Both licensing fees involve a CAL license fee and a server fee where each user or device that requires access to the SharePoint server must also have a CAL.
SharePoint Standard CAL
The Standard license offers organisations the core features of SharePoint around the key areas of Sites, Communities, Content, and Search. These include a single web infrastructure, optimised search results, documents and records management, templatised workflows and integrated collaboration tools.
SharePoint Enterprise CAL
SharePoint Enterprise CAL offers the full capabilities of SharePoint and includes all the features of SharePoint Standard plus more. Inclusions exclusive to SharePoint Enterprise include business intelligence integrations, business solutions such as Access Services, and Enterprise Search extensions.
Whilst SharePoint Online and SharePoint On-premises both offer their own benefits and drawbacks, it's important to take into account your organisation's budget, purpose and security needs when choosing which version to go with. If you're unsure which version and plan of SharePoint to go with, Antares's experienced consultants can help you make the right decision. Contact us at +61 2 8275 8811 for more information today!
What should I put on my intranet?
Your organisation's intranet should be a go-to platform for collaboration and communication. We have a blog post dedicated to what makes a winning Intranet Solution but here are a few components to include in your intranet to keep your employees engaged:

Employee directory
The key to successful collaboration is ensuring your employees are well connected with one another. In the case of most organisations, it's almost unlikely that everyone knows one another. This is where an employee directory can help. The directory works as a central place where individuals' can easily search and find other the right person based on different criteria e.g. role, location, expertise. With the changing nature of work and everyone working in disparate locations, employee directories are now a necessary addition to the workplace.

Search engine
Everyone understands the frustration of not being able to find a specific item. A good search engine can find the right information by just typing one or two keywords. Empower your staff with a smart search engine that drives productivity, efficiency and saves valuable time.

Engaging content
Nobody likes excessively long content that is dry and boring. To capture your employees' attention and increase the usage of your intranet, make sure that the content on the platform is engaging, uses a variety of mediums and is interactive.

Employee recognition
Who doesn't like receiving credit when deserved? Giving recognition is a great method in retaining and rewarding staff for their hard work. An employee recognition system is the foundation for a healthy work culture and boosts employee motivation as it provides an incentivised way of working.

HR information
Free up your HR departments' time by including HR information on your intranet. By including everything from annual leave to staff benefits to internal job postings, your employees will be able to find answers to questions in an instant.

Training resources
Learning is a journey and there is always something new to learn. Give your employees a place to conduct self-learning with the right resources and organisational tools.
Why choose Antares for your intranet needs
Worldwide trends suggest that 20% of employees' time is spent searching for information. We've cut your time spent searching for the right solution down to 0%.
We implement your Modern SharePoint solution in three logical phases: Planning, Deployment and Go-live.
Every solution needs a solid plan and Antares' tried and tested approach leaves no detail behind. Just like a skyscraper, sturdy groundwork is the key to growth and success.
Planning
To set your Intranet up for success and ensure you achieve your goals, Antares works closely with you to develop a functional and strategic plan to scope out your needs and goals. Our consultants gather your needs to build a site map that incorporates all the features and applications you want for your SharePoint Intranet solution. This is your chance to say the features you want and don't want for aunique Intranet that truly aligns with your organisation.
Deployment
Every organisation is unique and that means every Intranet platform is too. Our deployment stage makes your SharePoint Intranet portal truly your own with customisable features. All of your unique components – employee directory, company updates, dynamic content etc. – are added in this important step.
Go-live
There's nothing more exciting than reaping the fruits of your labour. See your very own Intranet solution in action and let our final demonstration show that hard work does indeed pay off.
Of course, no solution is complete without your staff's support. We provide effective training to your staff that actually works. None of that boring, traditional approaches where your employees have to listen to an instructor ramble on for 2 hours. Our practical approach fosters hands on learning and greater understanding of the platform for increased adoption.
We love to assist our customers and our post-launch support is here to extend a helping hand if you have any questions or fixes at any time.