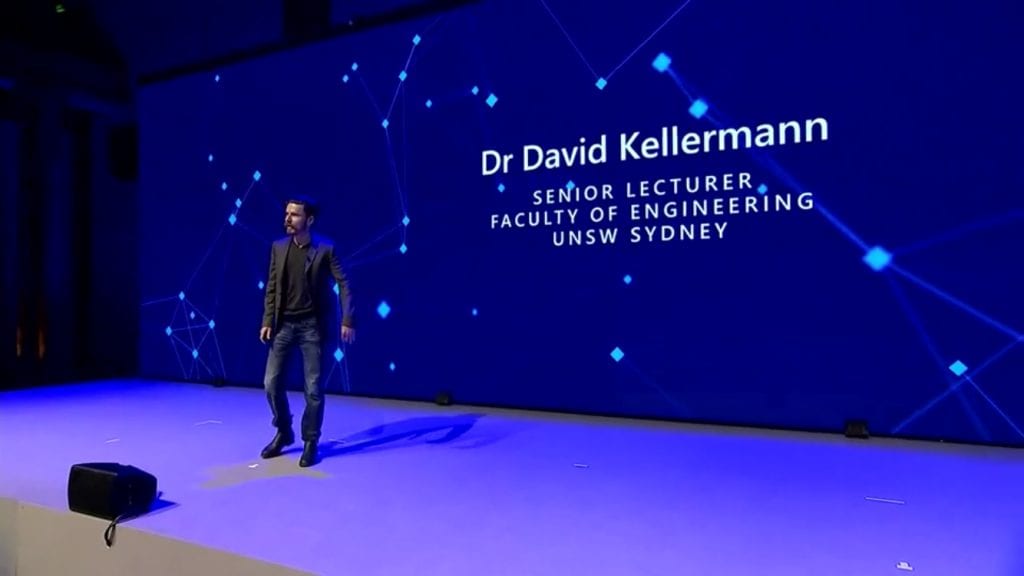 Solutions
Our Education Solution, QBot, is Open-Sourced on GitHub
Aaron Cunnington
With 17+ years of Australian and international experience, Aaron is a seasoned digital executive, leader, and strategist. Known for his positive attitude, generosity, and sense of humour.
January 22nd, 2020
QBot, a popular part of the famous solution Antares developed with Professor David Kellermann, has been open-sourced and made available on GitHub for customers to download and deploy.
Antares has been working on this initiative with Microsoft and the University of New South Wales (UNSW), given the high volume of interest following the solution's demonstration by Dr. Kellermann at Microsoft Inspire in July 2019. Since then, Antares have been working on expanding the solution, building out new features, and working with other universities across the globe to revolutionise the learning experience for countless students.
Antares has three versions of QBot available – QBotLite, QBot, and QBotPlus. QBotLite, the version that is available for free on GitHub, has the basic features of the original UNSW implementation such as identifying student comments as answers with a self-building knowledge base, auto answering questions, and it provides a question list per topic and course. Many education providers want to be able to take advantage of the advanced features that were implemented at UNSW, so Antares have ensured there are different offerings of QBot available depending on what each institution would like to implement. This might include advanced features such as system integration, personalised student study packs based on individual learning needs, and a lot more.
If you want an enterprise grade and integrated solution, then the other two offerings available may be right for your organisation. Antares are working with several other universities rolling out these versions of the solution, and in doing so these universities are ensuring they have established the digital tools necessary for education in the future.
The second version available is QBot. QBot is a paid version, however it includes many extra capabilities such as Stream integration, QR code scanning, custom templates, and the ability to integrate with your own systems (not just Microsoft Teams). Many of the features of QBot can also be rolled out within non-educational settings. For example, Antares have built a solution for the HR sector called 'askHRplus', which helps HR professionals with employee questions and staff engagement.
QBotPlus is the third version available, and it is the end-to-end solution for education institutions. QbotPlus includes all the most advanced features built in. It goes even further than QBot, supplying students with personalised study packs and scorecards, auto-marking, reporting, ongoing support from Antares, and more.
The QBotPlus solution was demonstrated at Microsoft Inspire in Las Vegas by Dr. Kellermann as a part of Satya Nadella's corenote speech. What makes QBotPlus so compelling is its ability to transform previously ambiguous terms like 'personalised learning' and 'quality education at scale' into tangible and measurable outcomes through a unified and integrated platform. Incredibly, it has even proven to increase pass-rates amongst students.
The story originally began when Professor of Engineering, Dr. Kellermann brought his classroom onto Microsoft Teams, creating a learning community for his students. From there, engagement skyrocketed. So much so, the lecturer reached out to Microsoft Gold partner Antares Solutions to build a 'Question Bot' (aka QBot) to tackle the problem. QBot is a world-first, AI and machine learning enabled chatbot, built into Microsoft Teams. The bot started out by tagging a student's tutor when they asked a question. From there, the bot learnt what the answer to the question was, so next time the question was asked it would provide an answer to the student without the tutor being involved. The outcomes were truly staggering. Students reported a 100% satisfaction score when asked if they were happy with the course. Pass rates increased from 65% to 85%. Dr. Kellermann was able to identify at-risk students before the final exam and reach out to them personally to prevent course dropouts. From there, Antares continued to build features onto QBot, with the full rollout of the solution they implemented for UNSW now being called QBotPlus. The solution has attracted unprecedented attention locally and abroad, both within the education sector and beyond.
We've had quick adoption from almost all students and so far, it's running really smoothly. This team has the highest engagement rate of all classes in the whole school. – David Kellerman, UNSW, Sydney
The version that is now being released on GitHub, called QBotLite, includes some of the key features from UNSW's first rollout, including the ability to tag subject matter experts such as tutors, and it can also be implemented in multiple courses. Additionally, it can identify student comments as answers, and includes a self-building knowledge base with the ability to auto-answer questions. It also includes a question list so lecturers and tutors can track questions within their course and specific topics.
One thing to keep in mind is that QBotLite will require some involvement from the IT department within your organisation. "QBotLite is designed for self-deployment", says Sulabh Jain, Head of Sales at Antares Solutions. If a university would like assistance in the rollout of the solution or would like some of the more advanced features such as personalised study packs and integrations, they can get in touch with Antares to start the conversation.
The decision to open-source QBotLite so other education institutions can take advantage of it means that any education provider has access to the basic features of QBot to build out a customised and integrated solution. The capabilities of the solution are exceptional, and education providers around the world are taking notice. There are several universities already working with Antares that are well on their way to deployment of QBotPlus. However, Antares and Microsoft hope that for universities who may not be ready to take advantage of all the features of QbotPlus, QBotLite on GitHub will provide an excellent starting point on their journey to transform higher education. Get in touch with Antares Solutions directly to speak to one of their Education technology experts today.
In publishing and graphic design, Lorem ipsum is a placeholder text commonly used to demonstrate the visual form of a document or a typeface without relying on meaningful content. Lorem ipsum may be used as a placeholder before final copy is available