Updates
Behind the tech: Meet Vanessa, our Modern Workplace savant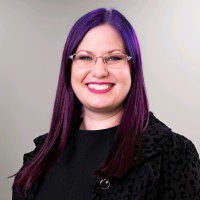 Vanessa Larsen
Principal Consultant
July 17th, 2022
On its own, technology is nothing without the talented professionals who have dedicated their careers to building expertise so they can help others leverage it to achieve their goals.
At Antares, we are privileged to have a strong team of such talented professionals with skills ranging from solutions architecture to data science, software development, AI and machine learning, and much more.
In this interview, we go behind the tech to get to know Vanessa (our Principal Modern Work Consultant based in Melbourne).
So Vanessa, what's your story?
I grew up in Brisbane in a very working-class family. I wasn't sure what I wanted to do after high school, but I ended up joining the IT department of a company and starting a business administration traineeship. I thought IT was cool, so I went on to do a Diploma in Web Development.
One day I saw a job ad that said "Do you want a career in SharePoint?" and I applied. I didn't know much about it back then, but I still remember the first time they tried to explain a content type planning worksheet to me and I was like, "So you mean metadata?". They were surprised I got it so quickly so it didn't take long to settle in.
That role kickstarted my career and after that I threw myself into becoming an expert in SharePoint and learning how to be a consultant. I went on to work for UNSW, took some time off backpacking, worked as a consultant in New Zealand, and then transferred to Melbourne. I've found my place here – it has a great culture and nightlife and I actually like coffee now!
Over time I've honed my skills, worked on larger and more complex projects, developed governance solutions, supported customers with data migrations into SharePoint online, and so much more.
When Antares approached me I decided to move across and it has been great. We've had several major projects these past 12 months and they've come together really well. I love the variety in consulting; one day I could be proposing a customer solution and the next I'm on the tools tinkering with a new feature, conducting testing, or writing design documentation.
If you weren't working in tech, what would you be doing?
Honestly I have no idea. Maybe living on a hobby farm with goats, chickens and a horse. And my cats of course!
What's the funniest thing that happened to you in lockdown?
I remember being on a call with some really senior people at Microsoft. My cat was only 6 months old at the time so she was in the naughty teenager stage and would scratch my furniture for attention. I thought my mic was on mute and I turned to her and yelled "NO!". When I looked back everyone had stopped talking and was looking at me. They thought I was saying it to the person who was speaking…that was pretty embarrassing!
What's your favourite cuisine?
Probably Italian (Indian would be a close second). I love a good pasta and pizza; I spent 4 months in Italy house sitting and the food was amazing. I remember going to a little pizza place there and it was average by Italian standards but it was still delicious.
If you could go anywhere in the world, where would you go?
I've got a bit of travel paralyses – I can't decide where to go next. But I would love to go back to Scandinavia and see the northern lights.
What would the ultimate weekend look like to you?
I'd start out going for a drive and a hike in nature for a few hours. Then I'd catch up with friends for dinner and see a live band. I love going to see live gigs and art shows and plays.
On the Sunday I'd just chill on the couch and enjoy a weekend nap.
What's something about you that no-one knows?
My story is a classic high school dropout story. I didn't have the same opportunities that some other people have, so I'm a real advocate for recognising talented people who don't take the usual path.
What's the best advice you've ever been given?
I had an amazing manager in New Zealand and her guidance around soft skills and consulting was so valuable. They take a softer approach there than in Australia, so I learned a lot working closely with her.
What advice would you give to someone looking to start their career in tech?
Don't be afraid to think outside the box. There are so many different areas of tech so try to find what interests you and choose a niche you can excel at.
Microsoft has great online learning courses and certifications, and you don't need to take a linear path. In technology you are always learning and researching, and you gain the most from hands-on experience. I'm grateful that I love practical learning and research – I've always been all over Microsoft documentation simply because I want to know more and really enjoy reading.